You know those occasional lightbulb moments you get when sewing and/or fitting? (I mean when they go on, not off LOL!) I had one of those moments a while back when I was working on fitting the back of a jacket, McCall's 5007. I'd post a pic of it, but can't seem to figure out how to insert a pattern pic from the commercial website like everyone else does.
(DEAR HUSBAND-- This is where you can stop reading because I will bore you to death!!! Proceed to my last paragraph so you know my schedule tomorrow :) .)
The front of this classic style has princess seams curving in toward the neck on the front, but not the back. The pattern back only has a CB seam. You would think this would be great for my curvy back, but it is not. In fact, the "traditional" thought is to curve the CB seam to reflect the shape of one's own back curve, thereby getting a better fit. However, *as usual* , it seems that I am the exception to the rule--what else is new... Which kind of gets me going on the issue of "seam integrity" as I was reading on Carolyn's fantastic blog. What exactly *is* seam integrity and when does it apply. Does it apply to all seams? Or just specific ones? Does it depend on the pattern? I don't know.
This is where I want to dissect the concept of seam integrity because when I look at a pattern, that pattern is fitted to a perfect size 10 fit model. When that fit model turns 40 and has several kids with the force of gravity at work in several places, she too will need some alterations. And those alterations can come from slicing/dicing/pivot and sliding, correct? But her basic overall shape is essentially the same, unless she has put on a drastic amount of weight. So I presume she probably wouldn't need to touch her seams to make the necessary alterations.
I, on the other hand, am the one using the pattern that was made to fit her perfect body. And trying to FIT *her* perfect pattern on my imperfect body. So this is where the issue of seam itegrity falls apart for me. For example, let's say my waist is 28, my hips 36 1/2 on a given day in the month. Let's say hers are 25 and 36, respectively. The side seam curve is actually a dart into the waist. If I don't futz with the shaping on that seam that's made to fit the perfect size 10 model, it's not going to fit me. My curves are different from hers. On a commercial pattern (let's say a skirt), I will need to alter not only the crotch length, but will need to adjust the width and depth of the front and back darts as well as the shaping of the side seam.
Another issue to examine here--my duct tape skirt sloper pattern doesn not resemble most commercial patterns. The duct tape pieces (shown below) came right off my body to develop my own sloper. First the pattern on my body, then the pattern cut into quadrants, then the pattern tested/developed as a sloper (back pieces are shown). Since this sloper/pattern was created right off my body, I don't mess with the shape of the seams. It is true to my body and I'm not messing with seam integrity because this sloper was made to fit one person--me.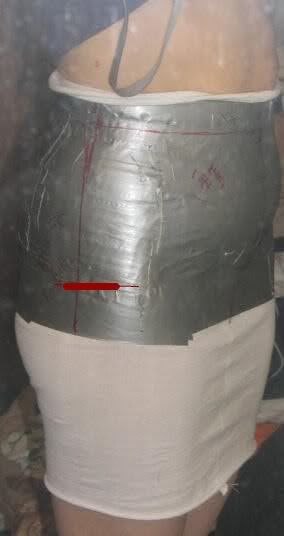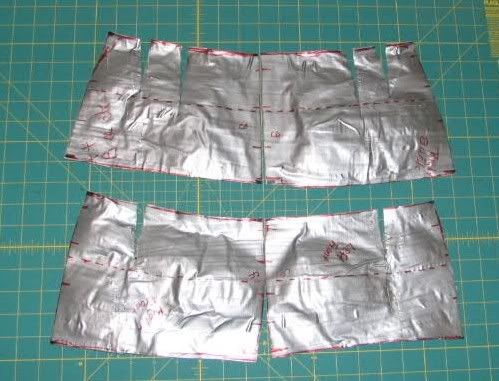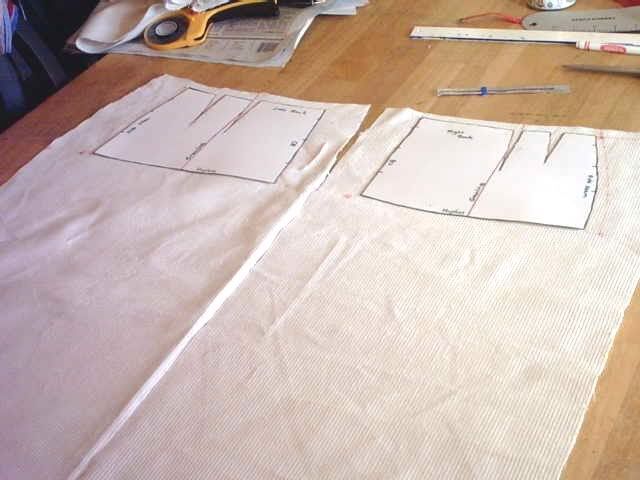 I'm not trying to poke holes in the seam integrity concept, just trying to understand it. I'm a question person. Always asking about things until I understand. And although my brains nods and accepts the concept, in practical terms I don't understand how and/or when it applies. I've got so many "what ifs" in my head.
Anyway...
...getting back to my issue with M5007... if I try to curve a CB seam on my back, I get the dreaded "X" foldlines in fabric starting at the CB at my waist and pointing to my shoulder blades and hips. This is *the* moment that tells me, "Don't mess with this seam!" Hence, seam integrity, I presume. Thus, the lightbult moment occurs and I realize that my CB seam doesn't need adjusting at all. What I need to add are princess seams in the back. So I create princess seams on the back piece of M5007 mirroring the ones in the front (curving into the neck). Why did I do this? Because the area of the curve in my back starts at the shoulder blade which is prominent, then curves in sharply to the small of my back, then back out to my rear end. My CB is actually quite straight with little curve. Thus, any form-fitted shaping on my back pattern pieces must be done at the shoulder blade point down, not at the CB seam.
This also brings about another thing that will tickle my brain. When we talk about darts, for example back darts, does seam integrity apply to darts? Because many times I'll split the back waist dart into a shoulder dart and make a princess seam. So from this perspective I think seam integrity does apply to darts. Ah...so many questions! I just love to pick the brains of my favorite fitting gurus too. They've always helped me understand these issues so I'm filling up my notepad of questions again. If anyone can shed some light on the things for me, please do so. I like the seeing the bright lights, rather than feeling light a dim bulb.
DH--this is where you can begin to read again...
Christmas shopping! I haven't done any yet. But tomorrow my agenda is set. I'm going to the gym first, down to JoAnn's, then to several places to pick up gift cards. I have to make my list and check it twice today. My JoAnn coupons are ready and the sale starts tomorrow. Just a few patterns, thread, and a couple of other things written down on a to-do list that I can't seem to locate right now. Guess that means I need to get up and do some housework now. (And read more about seam integrity when I get the chance :) . )