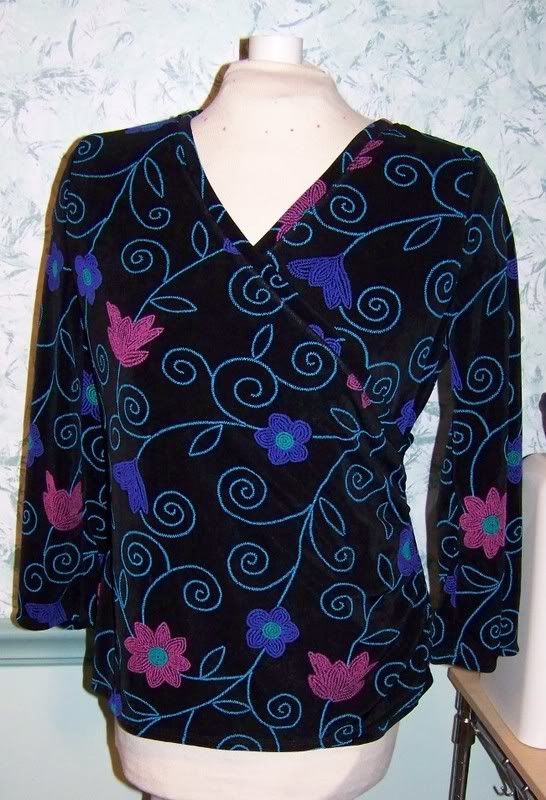 Just finished S4076, the wrap version. Don't know why, but I've never owned, nor worn, a wrap top before. But this version is definitely to my liking! The fabric I used was an embroidered, black Slinky--LOVE IT!
I'm definitely in love with Slinky fabric. In fact, this morning I bought 1 1/2 yards of this beautiful teal Slinky over at EOS to make another wrap top, maybe for PR Weekend in a few weeks. And I had to take a peek over at Gorgeous Things and ordered a black/white/gray art deco print, maybe for the Christine Jonson Wrap top. Once it got down to 7 yards left, the decision had to be made.
I was cautioned by a recent review of the wrap version over at PatternReview. A reviewer mentioned that her wrap version (in the flat pattern stage, I think) definitely did not have the same finished measurements as it should in the bust. Guess Simplicity chalked this up to an error, but there were no fit issues for me by simply grading from a 10 at the shoulders to a 14 mid armhole down. Those darn full high hips of mine needed a little more on the back piece from the waist down, so I added a 1/2" extra in the seam allowance starting at the hem on the back piece only, tapering to 0 at the waist. This is a constant bugaboo for me--broad shoulders, very small back, and full high hips. It makes for a very curvy back which necessitates either A: back darts or princess seams or B: Make the back more boxy and loose. I opted for B on this top, although if made again I think the back piece wil be redrafted for a shoulder princess seam so the small of the back can curve in and mold the body better.
Here is a pic of me wearing the top:
There were lots of alterations for me as usual. They are found in my review of this top at Patternreview (well, when I get to write it :) ). I think the style is flattering, although I added 2" of length below the waist and probably shouldn't have with the Slinky. The 4-way stretch tends to pull down and add length anyway. Right now the top hits me right at my widest point, but that isn't a deal breaker because I simply like the fit and feel of the top. The top is tacked closed at the v by stitching in the ditch of the neckband.
Overall, I'll get a lot of wear out of this top. It's comfy and can be dressed up or down.
The next few days I'll be taking a break from tops and working on jeans. Cutting out mine because I'm finished (well, at least I *think* I am) with muslin alterations, cutting out DD's for her muslin, finishing DS#2's third pair, and starting DS#1's first pair! Better make sure there are enough good denim needles in my stash!
Here's to hoping my muslin alterations will pan out!!!