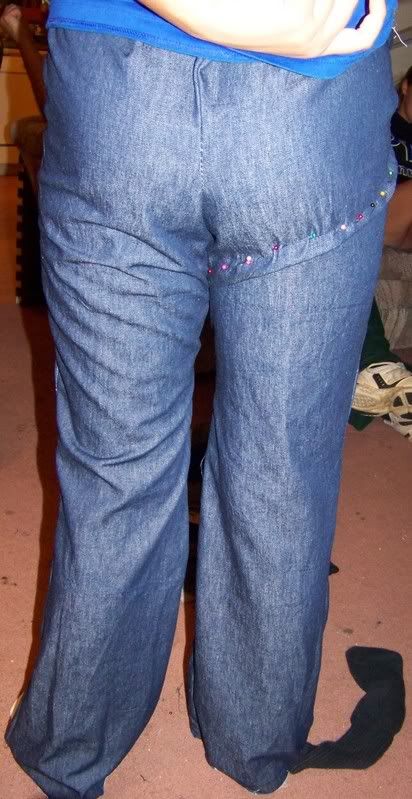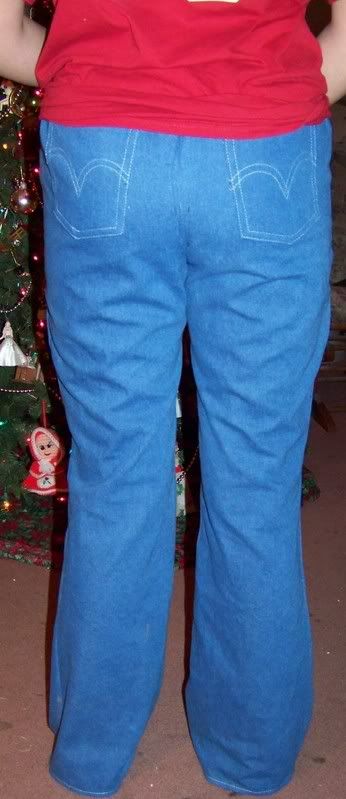 Fitting is such a funny thing. It is such... Let's start again :) . For some reason I can't get text off the side of my pic :( . Fitting is such a funny thing. It is such an integral part of sewing, and yet I've really only discovered it since joining Patternreview a few years ago. Before that it was lengthen/shorten, let out a seam here and there, and the process of a good fit has eluded me for the past 26+ years out of my 30 years of sewing. Even in high school, things never fit quite right and I didn't really know why. A few of my friends who sewed to pass the time as an elective class used to get a pretty decent fit. But I was never as lucky.

The Internet has been a godsend to me as far as fit is concerned. And it has taken time, not something that has happened overnight, in a month, or even a year. The more I do it, the better I get. So far I've been able to nail down a decent fit for a top or jacket and a skirt. But pants is my last frontier. I've been busy working on mine and my daughter's over the last several months. Since May actually, when I took Shannon Gifford's Make a Pants Muslin class. I start working on it, take a few fitting pics, stop, work on something else, start again, stop again... You get the idea. Right now I've been concentrating my efforts on my daughter's pants. They're almost there. Above are pics of her first muslin. The back looks bad, I know. Deep folds and creases from way too much fabric. Can't do much with those pants as far as alterations are concerned, so I just finished them up so she could wear them. Nothing worse than what I see at school anyway. My second try I was happier with, but it still needs work. On this pair, a few lightbulbs went on as far as pants fitting is concerned. But the deep folds and creases have been replaced with light folds and creases. She also wants a narrower leg and narrower hem. Done. Working on her third pair soon.
It's a tricky thing. I don't want to take out too much length via a fisheye and traditional dart. Doing so would make the pants uncomfortable. So I just pinch out and take a guess. Working with different weights of denim makes things tricky too, in that they lay differently on the body. So I've made another guess for my third try. My first reaction was to take out another inch via a fisheye, but I'm going to go with 3/4" right now. Little tweaks here and there from this point forward. The good thing is, DD#2 likes them! They're comfortable for her. We sometimes joke around that she has, what we call, sensory integration disorder. She has strong likes and dislikes for particular fabrics and fashions. She can't stand the feel of traditional jeans. Doesn't like stiff denim, doesn't like a tight crotch fit, doesn't like tight legs, doesn't like them short (she's developing a long inseam like me), and the list goes on. So the fact that she finds these comfortable and wearable is fine by me. The first pair I made makes me cringe when I look at the back, but hey, they look good from the front LOL. The second pair looks about average compared to what I see in RTW on a lot of people. So I'm getting excited about this third pair.
I'd get excited about *my* third muslin, but dummy me did a foolish thing. I have 4 pieces--a right front, left front, right back, left back for my asymetrical body. Not having worked on it in a month, I grabbed two pieces and started cutting. ACK! I cut 4 backs!!! Please stamp the word "Stupid" on my forehead. I was thinking of salvaging it, but probably won't. What I will do is cut out two fronts from another pieces of denim and use the backs to make sure they fit right. Then alter the pattern if necessary and recut two more backs from the new denim. Darn! I hate making stupid mistakes on fabric I really like. Oh well. It wasn't expensive. And it happens to all of us, doesn't it.
As I work on conquering this "last frontier", I realize there are two very important people I must thank for getting this far. Those two being Shannon Gifford and Jean Haas. What great fitting gurus they are! And so extremely helpful too. They go above and beyond the call of duty and are always available when the class is over to answer lingering questions. Their Patternreview classes are awesome and I've always gotten a lot out of them. Someday I'll meet them in person.
Ending on a happy note, I met PR members Babs and Shura this past Saturday! What great women and we talked about what we love--garment sewing :) . We're hoping to recruit enough people in our area to start an ASG chapter. We have high hopes in getting one going, so please wish us luck in our endeavor. We're planning month meetings at this point and hoping our recruiting efforts will succeed in helping us meet our goal.